Periyar is well located as a centre for seeing most of these ornithological specialties of the Western Ghats, as well as large numbers of other resident hill species and migrants. Its attraction for birdwatchers is enhanced by the proximity of low lying plains on three sides. There is considerable local migration, often in the drier weather, of lowland species up into the foothills, and several interesting examples of ecological counterparts in pairs of wet zone and dry zone species can be found, e.g. the Barbets. This is particularly noticeable at Thekkady, conveniently sited near the top of a steep 450m/1500ft ghat above the dry Tamil Nadu plain.



There are 315 species positively recorded in the area. Among positively recorded species approximately 67% are residents, known to breed or suspected of breeding here. A proportion of resident species range quite widely over the area, particularly outside their breeding season (R/LM, e.g. Whiterumped and Blackheaded Munias). Winter visitors (WV) and passage migrants (PM) account for a further 20% and three species are either vagrant (V) or of indeterminate status. The remaining species, about 12%, are a mixture of local and altitudinal migrants (LM). It includes species with established seasonal migration patterns (Herons and Egrets) as well as a few species which only occur here rarely though in the wider region they are resident species (Egyptian Vulture) and also species which though they are known to have bred in the sanctuary are only present for part of the year, such as Hoopoe and Indian Roller, and which are categorised as LM/B.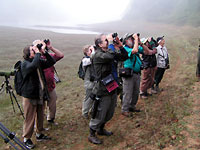 Bird watching will produce a list of about 20 easily seen lake species and time spent on the grassy edges of the creeks near Thekkady may add half-a-dozen more. The only accessible area of mud flats is immediately above the small check dam near the head works on the edge of Kumili. Forest areas on the other hand are enormously productive, particularly where interspersed with glades and clearings, and this habitat predominates in the Tourist Zone. It is necessary to arrange a guide for walking, except on the Thekkady peninsula, though a short excursion of a mile or two is usually sufficient.

In deciduous forest around Thekkady the commonest species in mixed foraging flocks are, in descending order Racket-tailed Drongo, Scarlet Minivet, Velvetfronted Nuthatch, Bronzed Drongo, Grey Tit, Goldenback Woodpeckers, Whitebellied Tree Pie, Jungle Babbler, Indian Rufous Tree Pie, Yellowbrowed Bulbul, Large Wood Shrike, Ashy Drongo, Small Minivet, Goldfronted Chloropsis, Small Green Barbet, Flowerpeckers. Other common members include Orioles, Fairy Bluebird, Leaf Warbler Flycatchers and Quaker Babbler. Very few species recorded in the sanctuary cannot at one time or another seen in the Tourist Zone, though it is necessary to climb to the grassy hilltops find some such as Brown Rock Pipit and Pied Bush Chat.