Satyan Mepayur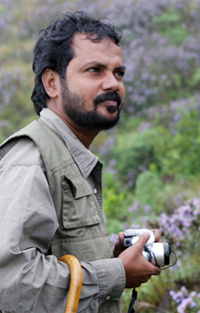 Renowned in Kerala as the co-author of the book " Shore Birds of Kerala", is an expert on birds of South India & specialises as a birding tour leader for the whole of South India. His specialty is his expertise in identifying most bird calls without sighting. He has published papers on birds in the prestigious BNHS journal and is currently working on a Malayalam field guide of Birds in Kerala. In his spare time he also collaborates with the leading Malayalam daily "Mathrubhoomi" in nature education especially birding among the youth and has been conducting ongoing bird monitoring programme in Kerala conducted by Malabar Natural History Society. His main areas of interest are Bird photography and Wildlife & nature painting.

"….We can't thank you enough for the wonderful arrangements you made for us for our recent tip. The trip went of without a hitch – the itinerary was great, the accommodations were very good but what was especially wonderful was our guide Satyan – outstanding in his capabilities and a joy to travel with. We felt that we not only saw more birds & wildlife than we expected but a new view into the culture and customs of India. We certainly will recommend Kalypso Adventures to our friends and you may certainly use our names as references…." Bill & Penny Mulligan
Jijo Mathew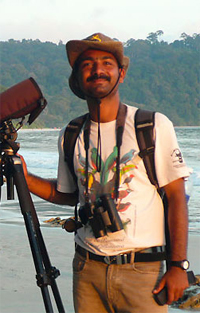 Jijo is experienced in guiding birders all over South India, notably Thattekkad Bird Sanctuary (Forest Species), Kol lands near Trissur (Ramsar site), Kumarakom (Large backwater lagoon), Eravikulam National Park (Shola and grassland species), Chinnar Wildlife Sanctuary (Dry forest species), Ooty (endemics) and Koonthankulam (Heronry).
Jijo has twelve years of birding experience with very good communication skills in English. He is also well versed in Hindi and Malayalam. Jijo has been involved in Bio-diversity assessment projects carried out by the Centre for Ecological Sciences (CES), Indian Institute of Science (IISc), Bangalore for the last four years and has also worked as a Nature Education Officer at Chinnar Wildlife Sanctuary. He is also a member of OBC and contributes his observations on birds to OBC and BNHS .
Jijo is also a keen bird photographer, being the first to photograph the Nilgiri Thrush which has been published in the OBC Bulletin and also the first to record the breeding habits of Slaty Legged Crake from Kerala. He is happy to accompany birders and wildlife lovers from all over the World. he is interested in Natural History, Wildlife, Trekking, Travelling and Photography.
"…The main reason I am writing is to praise Jijo. Both Gillan and I found him to be not only a wonderful bird guide but also an absolutely delightful human being. His sense of humour, his love of language, and his wide-ranging interests all contributed to making our week with him one of the most delightful birding (and travel) experiences of our lives. The birding was very successful. Jijo's skill at locating birds is breathtaking, and he takes such delight in finding the birds for his clients…" Martin Bowman, Ontario, Canada
Eldhose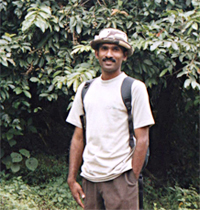 Eldhose, a native of Thattekkad, is a self-taught birder of international reputation. Most birding magazines and trip reports about Kerala mention his expertise and guide potential. Prestigious journals like the Oriental Birding Club journal also has recommended him as a tour leader for birders to Kerala. It is a testament to his abilities that the Department of Forests & Wildlife has entrusted the field studies on the Sri Lanka Frogmouth's nesting habits and other equally important field studies to him. He lives at Thattekkad with his wife and two children.
Lakpa Sherpa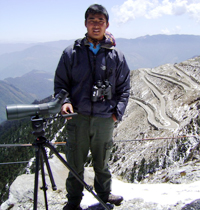 Lakpa Sherpa is a man of the mountains from West Sikkim and has successfully led many birdwatching groups to Northeast India, including Kaziranga, Manas, Nameri, Dibru-Saikowa, Namdapha, Eagles Nest, Pakke and Dirang-Sela-Tawang. He has birded with tour leaders like Craig Robson, Hannu Jannes, Dave Farrow etc. In his free time he takes to the remotest parts of the Himalayas birding and looking for new areas for documenting their presence.

Peter Augustine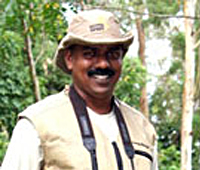 Peter is a self-taught birder, who picked up the elements of birding from the numerous birders from all over the globe whom he has driven around. With a keen sense of hearing, hard work & an abiding passion for bird watching, Peter is an invaluable asset and guide. He is also knowledgeable about the cultural aspects of the South Indian states, thus making him an invaluable asset to those seeking a birding, wildlife and culture tour of the peninsula.
"..Peter was very pleasant and his knowledge of the birds and areas was quite good. My expectations were met quite well. We saw almost all of the endemics…" Howard Winer, USA
Responsible Tourism | Terms & Conditions | Privacy Policy | Site Map